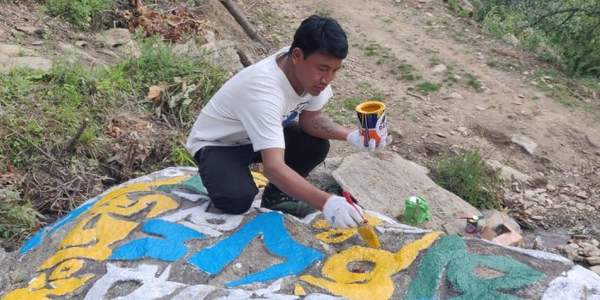 Nepal 37 jaar
---
Tshering Dorji Sherpa, tourist guide Nepal
Hi, I am Tshering Dorji Sherpa from Nepal. Due to COVID-19, my country went into a lockdown like the rest of the world. People like me who had been working in the tourism sector had no work to do and were forced to stay at home. I chose to go back to my hometown to create my own lockdown adventure.

I was determined to not waste time just by staying at home and instead wanted to something productive. Being back at home, I saw that the shrines on the rocks in our village that had high historical and cultural significance for Buddhist pilgrims, needed to be cleaned and preserved. I decided to clean and preserve these shrines together with my friend.

We received a lot of support from the community, financially and physically. The lockdown came as an opportunity for me to complete my plan that had been in the works for many years. I firmly believe that if youths can help protect and preserve important cultural sites like these, they will be preserved for future generations to see, attract more foreign visitors and as a result help in the socioeconomic development of the entire village.
"Utilizing lockdown time to preserve an important cultural heritage site in a Himalayan village" Van onze lokale partner in Nepal.