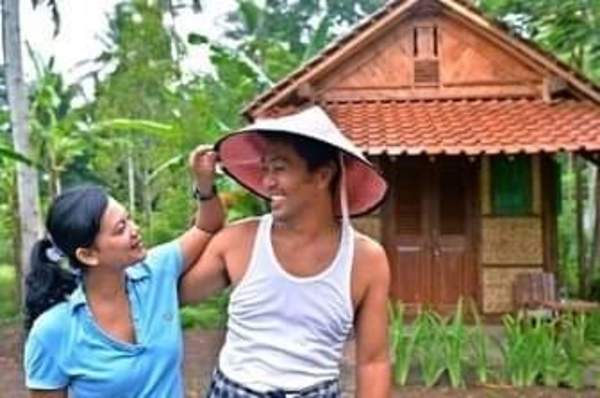 Java & Bali 45 jaar
---
Maya & Djoko owners of Didu's Homestay
I, Maya, live right in between the rice fields in Banyuwangi. Banyuwangi is a small relatively quiet place. Our town is close to the volcano Kawah Ijen. Visitors come and stay with us to do a night hike at this volcano for the blue light from the crater. We are also close to a ferry that goes to Bali.

Creating a home away from home and sharing the beauty that we believe Java has to offer. This was our intention when setting up Didu's homestay. I run this bed & breakfast together with my husband Djoko.

Djoko and I met in 1997, at the time we were both working on a world cruise ship. Djoko was a cook and I worked as a housekeeper. We worked together for a couple of years, but in 2000 we were separated and worked on different cruises. In 2014 we decided to stay home, we did not want to be away from each other any longer.

With our experience in hospitality and the courage to start our own business from home. In 2015 Didu's homestay was born. The home itself is a traditional Banyuwangi house, some part date back 100 years. We are always looking for a way to give our guests that special experience. This starts before their arrival by offering to pick them up from the train station, baking pancakes for them or offering them a traditional Indonesian breakfast.

We first started with one guestroom, but through the years we renovated and update the stays. Now our guests stay in one of the pondoks in our backyard, with their own handwritten name sign on the door it is just like a tiny house. In the middle of the garden we have a living room, where guests can relax and we like to sit with them. We love how we created a place that makes us and others happy.